Demartek FC Zone - Fibre Channel Resources
Welcome to the Demartek Fibre Channel (FC) Resources, a collection of FC research including results from tests run in our lab with various FC switches, adapters and storage targets. Information describing Demartek testing services, lab infrastructure and contact information is available on our lab validation testing page.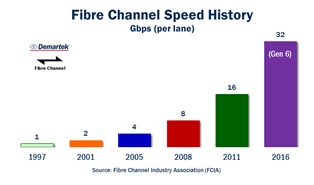 Gen 6 Fibre Channel was introduced in 2016, which includes a single-lane 32 Gbps speed and a quad-lane 128 Gbps speed. For more details, look for Fibre Channel in the transfer rate, history and roadmap sections of the Demartek Storage Networking Interface Comparison reference page.
---
Public Presentations Including Videos and Podcasts
Public Evaluations and Lab Reports