Demartek to Present at SNW USA in April 2013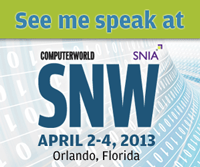 January 2013
Dennis Martin, President of Demartek, will present three sessions at Storage Networking World Conference (SNWUSA) in Orlando, Florida in April 2013.
---
Analyst Perspective and Test Lab Report: 16Gb Fibre Channel Performance and Recommendations
Fibre Channel storage is a multi-billion dollar industry and remains the dominant SAN fabric architecture with millions of FC ports deployed in large datacenters. 16Gb Fibre Channel ("16GFC") can accommodate increased workloads that higher density virtualization, private cloud storage and the increasing deployment of SSD technology bring to SAN fabrics. In this session, Dennis will present the use cases for 16Gb FC, discuss what is available today, interoperability with previous generations of FC such as 8GFC and 4GFC and provide guidance for cabling, connectors, patch panels and other infrastructure as you plan ahead. In addition, we will share Demartek lab performance test results with 16Gb FC infrastructure including the use of virtualization and SSD technology, and see how much of a 16Gb pipe can be filled with real database workloads.
Learn use cases for 16Gb Fibre Channel
Understand how to take advantage of the increased bandwidth available with 16Gb FC
Learn about cabling and other infrastructure requirements for 16Gb FC
View the 16Gb Fibre Channel Performance and Recommendations presentation. (PDF, 1845 KB)
---
Analyst Perspective: Next Generation Storage Networking for Next Generation Data Centers
With 10GigE gaining popularity in data centers and storage technologies such as 16Gb Fibre Channel beginning to appear, it's time to rethink your storage and network infrastructures. Learn about futures for Ethernet such as 40GbE and 100GbE, 32Gb Fibre Channel (32GFC) and other storage networking technologies including SR-IOV and NPIV. We will also discuss cabling and connectors and which cables NOT to buy for your next datacenter build out. Multi-mode fiber optic and copper direct attach cable (DAC) cabling will be explained, and the connectors such as SFP, SFP+ and QSFP+.
View the Next Generation Storage Networking presentation. (PDF, 855 KB)
---
Click the link to get the complete agenda and registration information for Storage Networking World Orlando 2013.
The original version of this page is available at www.demartek.com/Demartek_Presenting_SNWUSA_2013-04.html on the Demartek website.