Demartek Adds Large-Memory Server to its Test Lab
27 June 2011
Demartek announces the addition of a large-memory server that will augment its virtual server and I/O testing capabilities. This server includes two Intel® Xeon X5680 ("Westmere") six-core processors that support hyper-threading, for a total of 24 logical processors. With 144GB of DDR3 RAM, this new server is capable of running many virtual machines and will be used for VMware®, Hyper-V™ and other virtual server environments running real-world applications, boot storms and more.
This server contains seven (7) full-length, full-height PCI Express® 2.0 expansion slots, including two x16 slots, four x8 slots and one x4 slot. These PCIe® 2.0 slots will be used extensively for testing various types of I/O, including 10GbE networking, 8Gb Fibre Channel, FCoE, iSCSI, SAS and some of the faster types of devices currently under development. This server can also accommodate several full-size PCIe SSDs. This server includes a large, dual-ported 6Gb/s storage backplane that will be used to test dual-port disk drives and SSDs.
This new server complements Demartek's existing infrastructure that includes 1Gb and 10Gb Ethernet/iSCSI/FCoE, 4Gb and 8Gb Fibre Channel, 3Gb and 6Gb SAS and Demartek's growing collection of SSD devices.
Demartek has ongoing testing initiatives in its lab with solid state storage, Fibre Channel, iSCSI, FCoE, SAS and other technologies in benchmark and real-world application environments. Additional information is available on our lab validation testing page.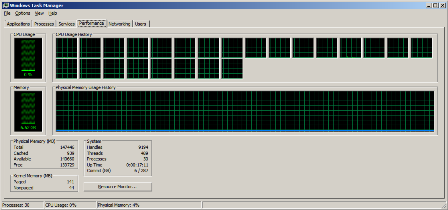 Windows Server 2008 R2 Task Manager Screen Shot
(click on the link or image to get the full-size image)
---
Hyper-V is a trademark of Microsoft Corporation.
Intel and Xeon are trademarks of Intel Corporation in the U.S. and other countries.
PCI Express and PCIe are registered trademarks of PCI-SIG.
VMware is a registered trademark of VMware, Inc.