Demartek Comments on the SNIA Storage Developer Conference (SDC) 2014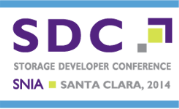 26 September 2014
By Dennis Martin, Demartek President
Storage Developer Conference (SDC) 2014
I gave two presentations at this month's SNIA Storage Developers Conference (SDC) 2014 in Santa Clara, California. I also had the opportunity to attend a few technical sessions and meet with friends and business partners. This was the 11th annual SDC, and I understand that the registration for this year's event was nearly 500 people, up from approximately 400 people last year.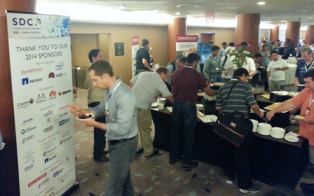 The three and half-day event included approximately 100 technical sessions, several morning keynote sessions, and more than a dozen Birds of a Feather informal evening sessions. SDC was also the host to dozens of engineers participating in the SNIA SMB2/SMB3 Plugfest, Cloud Interoperability Plugfest and the SNIA iSCSI Plugfest.
My sessions were titled Storage Systems Can Now Get ENERGY STAR Labels and Why You Should Care and Next Generation Storage Networking for Next Generation Data Centers. At the ENERGY STAR session, we had the privilege to announce that Demartek is the first test lab to become a SNIA Emerald™ Recognized Tester.
Both sessions were well attended and there were a number of good questions from the audience. The abstracts and the slides for these sessions are available on our SDC2014 event page.
I attended several sessions relating to performance measurement and benchmarks for storage systems. There were also several sessions relating to storage for cloud computing, software-defined storage, features and implementations for various file systems, non-volatile memory technologies and more.
SDC is a great event for storage system designers and developers to attend to get detailed technical information on a variety of storage system topics.