Demartek to Present at SNW USA in October 2013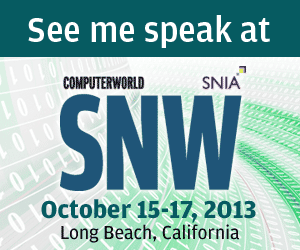 August 2013
Dennis Martin, President of Demartek, will present three sessions at Storage Networking World Conference (SNWUSA) in Long Beach, CA in October 2013.
---
I/O Virtualization - The Next Virtualization Frontier
Do you have some high traffic virtual machines? I/O virtualization is emerging as a great way to better utilize your I/O adapters, especially in virtual server environments. Now that the latest editions of hypervisors support SR-IOV for Ethernet, there are now ways to offload the management of virtual functions away from the hypervisor and into the adapter, increasing performance in the VMs. We will discuss forms of I/O virtualization that you are already using and how I/O Virtualization compares to other technologies such as Fibre Channel NPIV (virtual Fibre Channel), DCB and FCoE. As is customary, Dennis will discuss results of his lab testing with these technologies. Attendees will:
Learn about I/O Virtualization and standards such as SR-IOV and MR-IOV, and what is available today, especially for Ethernet and Fibre Channel
How I/O Virtualization works with server virtualization
Discuss good candidate environments for deploying I/O Virtualization
View the I/O Virtualization presentation (PDF).
---
Analyst Perspective and Test Lab Report: Using File Server Protocols for Block-Based Storage Workloads
Many workloads, such as database, email, virtual machine migration and others are usually performed using traditional block-based storage protocols, such as Direct Attached Storage (DAS) or Storage Area Networks (SAN) including Fibre Channel or iSCSI. Technologies are being developed that enable all of these workloads to be performed in non-traditional ways, including using file servers with file-based protocols over Ethernet. These technologies provide a simple way to deploy these workloads while maintaining expected performance levels. In this session, Demartek will explain how SMB 3.0 (CIFS), available in Windows Server 2012 and Windows 8, enables applications such as Microsoft SQL Server to use file servers for workloads usually thought to require block storage protocols. Examples and test results from the Demartek lab will be included in this presentation.
Learn about the future of file protocol storage handling
See how the SMB/CIFS protocol can provide high performance
Learn how Microsoft SQL Server can use databases on file shares
View the File Server for Block Protocols presentation (PDF).
---
Solid State Storage Performance Comparisons: SSD Cache Performance
SSD technology is being adopted very aggressively in datacenters, but how do you get your best bang for the buck? Dennis will review performance results from tests conducted in the Demartek lab using various types of SSD technology. He will show database and other real-world workloads with varying amounts of SSD cache, including server-side, in the network and in the storage system, and the performance gains as seen by the application. Comparisons to different types of SSD caching solutions will be made. We will discuss the answer to "how much SSD cache is enough?" The focus of this session is technical detail with a great deal of performance results using real solutions available today. Attendees will:
Understand the various places in the infrastructure where SSD caching can be applied
See performance test results from various configurations of SSD cache technologies
Have the information needed to make the right SSD caching decisions
View the SSD Caching Performance presentation (PDF).
---
Click the link to get the complete agenda and registration information for Storage Networking World Long Beach 2013.