Demartek Discusses SSDs at the Storage Decisions Conference New York in September 2013
8 August 2013
Dennis Martin, President of Demartek, will present two sessions at the Storage Decisions Conference in New York on Monday, September 16, 2013. These sessions are:
September 16, 9:00am - 10:00am: Solid-State Storage is Everywhere - But Where Does it Work Best?
September 16, 2:00pm - 3:00pm: Solid-State Technology - What's New?
---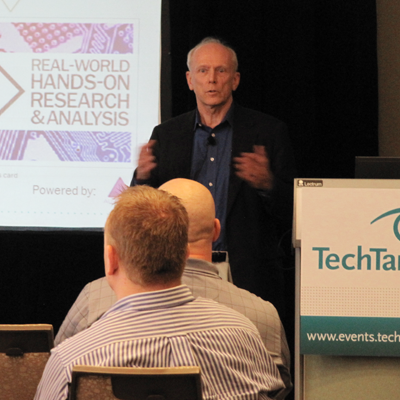 Solid-State Storage is Everywhere - But Where Does it Work Best?
In this session, we look at the many options for deploying solid-state storage – server-based, server-based but shared, in a hybrid array, all-flash arrays, caching appliances, etc. We'll describe where it's most beneficial for the particular types of apps you're running; how to evaluate solid-state storage products (specs, controller tech, etc.).
Attendees will:
Understand the reasons for, an benefits of deploying solid-state storage in each part of the infrastructure
Learn how to compare solid-state product specifications and things to know when conducting evaluations
---
Solid-State Technology - What's New?
Solid-state technology has had the greatest impact on storage systems since the hard disk arrived. Despite its relatively high cost, solid-state has been adopted quickly. And the technology is evolving at an even faster pace. In this session, we'll survey the current state of the art, describe and put into context the most recent developments like TLC, high-capacity SSD, NVMe, etc. This session will also discuss how solid-state is affecting the storage management software market, with emerging products like data cache managers and apps that allow sharing of server-based SSD. We'll tell you what's available now, what's coming soon and what's on the drawing board.
Attendees will:
Learn about the different types of technology that go into today's solid-state storage products and what to expect in the future.
Discover the world of server-side SSD caching and where best to deploy it
---
Click the link to get the complete agenda and registration information for Storage Decisions New York 2013. Stay current with the latest news for this conference by following the Twitter hashtag #SDNewYork13.