Demartek to Present SSD, FCoE, and I/O Virtualization Technologies at SNW in April 2011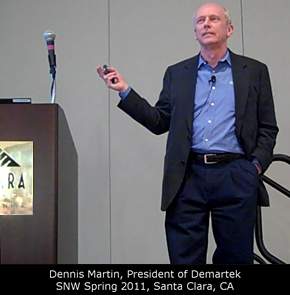 12 January 2011
Dennis Martin, President of Demartek, will present three sessions at the Storage Networking World Conference (SNW) in Santa Clara, California, April 4-7, 2011. These sessions are:
Updated 13 April 2011

Links to the slide decks are included at the end of each abstract. Also see other SNW links in the "Related Demartek Content" area on the left side of this page.
---
Deep Dive on SSD
This is an in-depth look at the architectures and technologies of solid state storage devices. The presentation will describe solid state in detail, and compare solid state with traditional magnetic media. In addition, Dennis will include some of the results from his solid state storage performance testing of Microsoft applications in the Demartek lab. Among the topics discussed are:
DRAM vs. NAND Flash
How NAND Flash Works
SLC vs. MLC and smaller nanometer technologies
Power and Cooling
Trends in SSD solutions from the vendors
Operating System behavior with Flash devices (Trim, Unmap, etc.)
Form factors: PCIe cards, drive form factors, etc.
Deployment options: Cache vs. Primary Storage
Demartek Lab Performance Comparisons
View or download the
SSD presentation
(PDF 539KB).
---
The leading switch vendors have revealed their visions of a unified data center network infrastructure (converged networking), and the adapter vendors are providing new adapters. It sounds good, but what are the ramifications for the storage networking infrastructures you have in place. This session will cover existing technologies that are available now and what is still needed, the key protocols and standards such as Data Center Bridging (DCB), also known as Enhanced Ethernet, and Fibre Channel over Ethernet (FCoE) that will make the unified data center work, the advantages and disadvantages of having an integrated network, and how currently installed storage networks will be affected.
In addition, Dennis will include some of the results from his unified network testing with Enhanced Ethernet and FCoE in the Demartek lab.
Learning objectives include:
Learn about converged networking and what it means for storage administrators.
Understand the current state of the technology and where it is headed.
See some actual examples of unified storage networking.
View or download the
Unified Storage Networking presentation
(PDF 285KB).
---
I/O Virtualization — The Next Virtualization Frontier
Do you use the full bandwidth in all of your server adapters, network interface cards, RAID controllers all the time? Or do you only need peak bandwidth for these adapters some of the time? Would you like to make a rack full of servers use only the storage and network adapters that they actually need, rather than having to put expensive cards in every server? I/O virtualization is emerging as a great way to virtualize your underused adapters across your server infrastructure. In this session, we will define I/O virtualization and how it complements server virtualization. We will discuss extending the PCI Express bus and InfiniBand bus and new standards such as SR-IOV and MR-IOV. We will also discuss how I/O Virtualization compares to technologies such as Fibre Channel NPIV, DCB and FCoE. As is customary, Dennis will discuss results of his early lab testing with these technologies.
Learning objectives include:
Learn about I/O Virtualization and standards such as SR-IOV and MR-IOV.
How I/O Virtualization works with server virtualization.
Discuss good candidate environments for deploying I/O Virtualization.
View or download the
I/O Virtualization presentation
(PDF 539KB).