Demartek Adds its First Nehalem System to its Test Lab
6 July 2009
Demartek announces the addition of the first of a series of Intel® Xeon 5500 ("Nehalem") servers to its test lab. This server includes seven (7) PCI Express® 2.0 x8 expansion slots and will be used to test SSD, Fibre Channel, iSCSI, FCoE, 10GbE, InfiniBand, 6Gb/s SAS and other advanced technologies requiring advanced processor and I/O capabilities.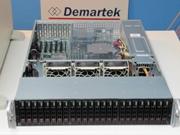 This server contains two Intel Xeon 5500 series quad-core processors and 48 GB of memory, making it suitable for virtual server testing and testing of real-world applications. In addition, it contains internal SATA-interface solid state drives (SSD) for the operating systems.
This server also supports twenty-four (24) 2.5-inch disk drives in the 2 rack-unit (2U) system chassis, suitable for testing spinning disk drives and solid state storage devices. These 24 drive slots are controlled by a 6Gb/s SAS/SATA controller, and are separate from the internal operating system storage.
This new server complements Demartek's existing Ethernet networking, Fibre Channel and iSCSI infrastructure. Other recent additions are listed on our lab validation testing page.
Demartek has ongoing testing efforts with solid state storage and unified storage networking with FCoE in the Demartek lab. Check the Demartek FCoE Zone and the Demartek SSD Zone for additional information.
---
Intel and Xeon are trademarks of Intel Corporation in the U.S. and other countries.
PCI Express is a registered trademark of PCI-SIG