Demartek Comments on Storage Networking World Spring 2010
19 April 2010
By Dennis Martin, Demartek President
This may have been the best Storage Networking World (SNW) conference I have attended in quite a while. This may seem surprising to those who have attended previous versions of this event, especially a few years ago before travel budgets were slashed due to the recession.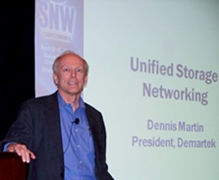 Although attendance was lighter than some might like, especially among the vendor community, it was a great event. I gave two presentations to packed rooms of approximately 100 people each. The first session on Monday morning was all technical people, either managers of technical people or server, storage or network administrators. The second session, on Tuesday afternoon, was mostly technical people.
The first session, on Unified Storage Networking (also known as DCB and FCoE), seemed to be well received. The audience members asked great questions. For some, this topic is more of a curiosity. Others commented that this was good information. I heard positive comments about the presentation from others later that day and during the next couple of days. I describe FCoE adoption right now as a "slow burn". Although a few users have adopted FCoE and are using it in production today, FCoE is really a long-term technology that should be carefully examined by those building new datacenters or major server build-outs over the next few years. As I mentioned in the session, storage technologies typically turn very slowly, often along a five to seven year timetable, so I do not feel disillusioned about the pace of FCoE adoption. I spoke with some end-users after the session who are definitely looking at FCoE for their next datacenter. I also received some great questions from the audience and from other users later during the conference about the sorts of real-world configuration and interoperability issues that they face as they plan their new build-outs. Although we've been testing FCoE for almost two years now, I've taken notes from these users and we will be testing some of these configurations in our lab here at Demartek. The results describing what works and doesn't work, beyond what we have already published, will appear in future sessions.
The second session, on I/O Virtualization, was a bit more of a head-scratcher for many in the audience. It may be because this session was immediately after lunch on Tuesday. I noticed a few closed eyes as I gave the presentation, but I understand about post-lunch naps. I/O virtualization is a pretty new and un-explored topic. I could see some light bulbs turning on for a few people. I heard several "that's really cool" and "you can do that?" type of comments from the audience. SR-IOV and MR-IOV are technologies that are even newer for most people than FCoE and I expect it will take more time for the benefits of this technology to really become clear for people. I mentioned that we have just begun testing I/O virtualization solutions here in the Demartek lab and I look forward to sharing results and commentary about these tests later this year.
There were lots of other technologies being discussed at this year's SNW, including solid state storage, de-duplication, cloud and others, most of which we are very interested in and are testing now or have tested off and on over the last year or so. There are many questions about these other technologies, and we are working to help provide some of the answers. Stay tuned.
I understand that the hands-on-lab sessions were well attended. In particular, the FCoE lab sessions were full and there were lots of questions from the users. This is a good sign and shows that people are interested and trying to make intelligent choices as they plan ahead.
There was a nice flow of Twitter traffic during the event, using the official #SNWUSA hash tag. However, much of this traffic came from public relations people, marketing people and analysts like myself. A few technical people use Twitter, but many of the technical users I contact don't use Twitter, so I have to keep that in perspective.
Often for analysts, conferences like SNW are filled with back-to-back meetings that some call "speed dating". This year, I deliberately didn't book as many meetings as usual, but focused on a few specific companies. This allowed us to have longer times for discussion and go in-depth a bit more than usual. I attended some sessions to learn some new things and to hear more about the needs of users and have conversations with users. I also spent some good time in the expo hall and had several good conversations there.
Having produced a few technical events in the past, I also noticed some small things that were done differently for cost-cutting purposes at this Spring's event. Nothing that made a significant difference for the attendees or vendors that I can tell, but I know that everybody needs to stay within budget.
For me, this was probably the best SNW I have attended in a long time, with a good balance of speaking, listening and learning. It's clear to me that users still need to see and learn the kinds of things that are available at SNW.