Demartek Evaluation: Accelerating Exchange Server with the HPE MSA 2050 Storage with Built-in Flash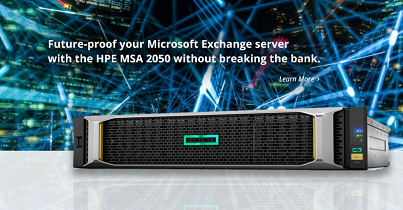 May 2018
For many businesses, email is often considered a mission-critical application. In addition to facilitating intra-company communications, many small to medium businesses rely on email as a method of communicating directly with customers, be it primary contact, confirmation of orders, support requests, or for other customer service functions. Adding the inevitable personal use and a seemingly never-ending assortment of spam email such as phishing, ransomware and more, email systems can be quite busy. It's vital for business continuity to know that corporate email remains operational and efficient 7x24.
The HPE MSA 2050 Storage is positioned in the market as a high-performance hybrid storage system. Upgradeable with a customer configurable number of solid state drives (SSD), a base-model all hard disk drive (HDD) array can be enhanced to provide SSD read caching or an SSD performance tier to accelerate array performance. HPE commissioned Demartek to evaluate the MSA 2050 Storage array as backend storage for Microsoft Exchange Server, configured as it might be deployed by a typical small or medium sized business.
We ran Microsoft Exchange Jetstress 2013 on an all-HDD array as a baseline and again with SSD read caching and performance tier upgrades to simulate the Microsoft Exchange I/O load and database I/O patterns. We considered the Jetstress output reports along with Windows Perfmon data to evaluate the suitability of the MSA 2050 Storage in these three configurations for this purpose.
---
Evaluation Series: HPE MSA 2050 Flash Upgrades
Recently Demartek evaluated the HPE MSA 2050 with Flash Upgrades for different types of workloads. The workloads tested and their results are available at these links:
---