Demartek Comments on CES 2016
13 January 2016
By Dennis Martin, Demartek President
As has been my custom recently, I spent a day last week at the 2016 CES. They've changed the naming of both the event and the organization running it. The event is simply called "CES" and the organization running it is now called the Consumer Technology Association.
The first CES was held in New York City in 1967 with 250 exhibitors and 17,500 attendees. For the next twenty years or so, it was held in various locations and sometimes more than once a year. It moved to its annual format in Las Vegas in 1998 and has been growing over the years.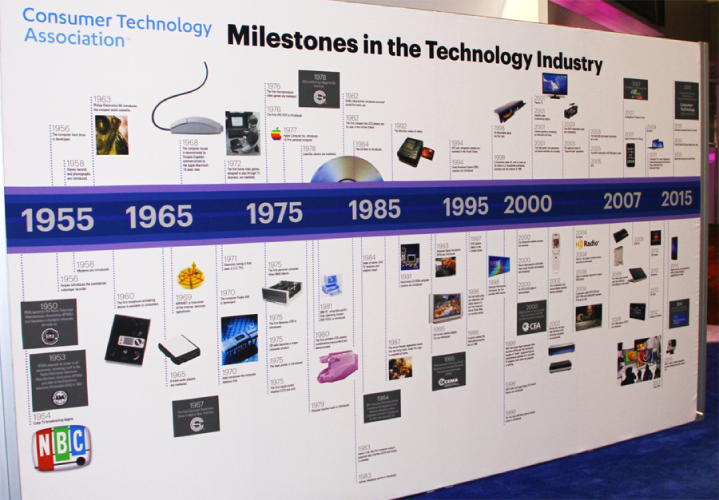 This year's CES was the largest ever, with 3800+ exhibitors, 2.47 million square feet of exhibits, 170,000+ attendees and more than 6000 members of the news media from all over the world. Included in the exhibits were more than 500 startups showing products. Although my role as an industry analyst often makes me part of the news media for some events, for CES, I'm simply a regular attendee.
The technologies on display included automotive, wearable technology, 3D printing, robotics, unmanned systems, Internet of Things (IoT), gaming, virtual reality, augmented reality, cyber-security, e-commerce, education, fitness, health and wellness, biometrics, smart home, television and display technology, camera technology and more. However, my purpose in attending was divided into looking for technologies that may find their way into the datacenter and, honestly, staying current with at least a few of the non-datacenter categories of products on display. Due my choice in allocating only one day to CES — and its sheer size — I limited my explorations to the main halls at the Las Vegas Convention Center.
4K Televisions (UHD)
The Ultra High Definition (UHD) televisions were well represented at this year's CES. I saw many very bright and very thin displays of this type. To be specific, these are known as UHDTV or UHD-1 televisions for the consumer market. Their resolution is 3840 x 2160 (2160p), which is exactly twice the resolution (in both dimensions) of the HD 1080p televisions. These have an aspect ratio of 16:9 or 1.82:1 and are used for television and video games. These consumer displays are sometimes called "4K" televisions because their horizontal resolution is approximately 4000 pixels. The new UHD televisions include support for "high dynamic range" (HDR) that has a higher level of contrast between light and dark areas of images, which improves picture quality.
Unfortunately, there is some confusion between the consumer "4K" displays and the official DCI 4K standard used by the film and video industry and used in movie theaters. The DCI 4K standard is 4096 x 2160 pixels, which, like its DCI 2K counterpart, has an aspect ratio of approximately 17:9 or 1.89:1.
I saw various sizes of UHD televisions, all the way up to a 170-inch model (more than 14 feet or 4 meters) in the Samsung booth. I saw curved versions of various sizes, mirrored displays and partially see-through displays. Some of these may be destined for the home, but I believe that many of these displays are intended for commercial applications. I also saw some 1080p displays that appeared to be completely clear pieces of glass, but then began to display content on the glass.
For those who like to stream video content, services such as Amazon, Netflix, YouTube and others support the same 4K format that is supported by these new UHD televisions. If you were excited at the prospect of 4K in your home but were deterred by the price point, the new UHD televisions have come down in price, and a fair number are less than US $1000, with some smaller models below $600.
The UHD Alliance, announced at last year's CES in January 2015, was formed to set the in-home consumer standard for 4K and higher resolutions to be used industry-wide. They have a nice glossary on their website that explains some of the terms associated with UHD technology (e.g. HDR, color gamut, etc.). At this year's CES, they announced the "ULTRA HD PREMIUM" logo program that will be used to ensure that devices, content and services meet certain standards with respect to resolution, contrast, brightness, color and other aspects of UHD technology. This year, expect to see this logo on products and services that meet these specifications. The press release describes the logo program, the specifications required to meet it and the participating companies.

A related development is the new crop of native (not upscaling) UHD 4K Blu-ray DVD players, also known as Ultra HD Blu-ray players. These support the new features of the UHD televisions including the 2160p format and HDR. Expect to see the first of these new 4K Blu-ray players in the spring of 2016 along with a few dozen movie titles to be released in this format at approximately the same time. Several movie studios have announced plans to release titles in this UHD 4K format this year. The Samsung UHD Blu-ray model will have a list price of US $499, though there is a pre-order list price of $399 available. Panasonic and Philips also announced UHD Blu-ray players and other companies are expected to provide similar products at similar price points later this year.
The new Ultra HD Blu-ray discs hold up to 66 GB and 100 GB of data on dual-layer and triple-layer discs, respectively.
Do these new UHD Blu-ray players revive the "disc vs. streaming" question?
HDMI 2.0a and HDR
There is a slight catch, however, to these new UHD 4K Blu-ray DVD players. The current HDMI 2.0 specification does not support HDR (high dynamic range, mentioned above). HDMI 2.0a, announced in April 2015, is required to support the new metadata used by HDR. Some existing HDMI 2.0 ports may be field upgradeable to HDMI 2.0a with a firmware upgrade.
If you want the high bandwidth features such as 4K@50/60 (2160p), your HDMI cables must be the "High Speed" HDMI (Category 2) cables, which are available today and can support up to 18 Gbps. More information is available in the HDMI 2.0, 2.0a and 2.0b FAQs listed on the HDMI industry organization website.
4K Cameras
4K cameras were almost everywhere I looked, from the traditional DSLR and camcorder manufacturers, to the "action cameras" made famous by GoPro, to smartphones. Most of the drones I saw (more on drones later) had 4K cameras mounted on them.

If 4K technology is not enough for you, 8K is on the horizon. I saw a few 8K displays and some prototypes of 8K camera technology. The 98-inch "Super UHD" 8K displays from different manufacturers were simply stunning in their visual quality. Canon had some information about a native 8K camera prototype in their booth. This camera uses an 8K Super 35mm Sensor (8192 x 4320, 1:89:1) up to 60 fps. It outputs 8K RAW and uses the Canon EF mount lenses. There remains plenty of engineering and design work to do before 8K technology becomes available, but it is on the way.

Samsung showed its enterprise and consumer line of SSDs. For enterprise and datacenter, they have SATA and SAS 2.5-inch drives, and their NVMe drives are available in PCIe card and 2.5-inch form factors. The enterprise drives are available using either 2-bit (MLC) or 3-bit (TLC) NAND flash technologies with capacities of up to more than 3 TB for all models, and one model of NVMe PCIe card up to more than 7 TB. On the consumer or "client" side, they showed an M.2 NVMe device and some SATA devices using 2.5-inch, mSATA and M.2 form factors, with capacities up to 4 TB. You can read more about these interfaces and form factors on our Storage Interface Comparison reference page.
The NVMe drives are of special interest to us at Demartek, because we stress test NVMe SSDs in many of our validation tests with synthetic and real-world enterprise workloads. The specs on one particular enterprise NVMe SSD on display indicated sequential read performance up to 5000 MB/sec (5 GB/sec) and random read performance of up to 1 million IOPS in a single device. We have seen these levels of performance in some of our own tests, at least for synthetic workloads. It is not too hard to imagine an enterprise storage array filled with a large number of this type of device that can achieve many millions of IOPS and some very large throughput performance. In as soon as the next two or three years, we expect a successor to NAND flash technology to provide even more spectacular performance. For more on NVMe and other SSD performance read my Comments on IDF2015 and FMS2015 and my Storage Decisions New York presentations.
Wireless Power
There are two wireless power industry groups, down from three a year ago. The Alliance for Wireless Power and the Power Matters Alliance respective boards of directors voted to merge the two organizations on June 1, 2015 and announced the completion of this merger in November 2015, forming the AirFuel Alliance. Their booth was just around the corner from the competing Wireless Power Consortium and their Qi ("chee") charging standard.
Both industry groups have the goal of providing wireless power for charging mobile devices as well as providing power wirelessly for other applications. Many technology and non-technology companies are participating with one or both of these emerging wireless power standards. According to their respective websites, the AirFuel Alliance has 195 participating companies, while the Wireless Power Consortium has 230 member companies. Each group's standard has some technical advantages and disadvantages compared to the other, and each group made announcements about new products available and new companies joining.
As far as I can tell, the WPC with its Qi standard seems to be a little further along, with more than 25 models of cars now offering Qi charging of mobile devices, and Qi adoption occurring in a number of restaurants, hotels and airports. There are some products that can wirelessly charge using either technology.
Two other companies, Energous and Ossia, have developed a method to transmit power over a radio frequency.
Regardless of which standard is used, imagine recharging your wearable technology device, medical device, smartphone, tablet or laptop computer without having to connect a cable — this is the beauty of wireless power.
Get more information at the AirFuel Alliance, Wireless Power Consortium, Energous and Ossia websites.

Wi-Fi: 802.11ac Wave 2 and MU-MIMO
Although a few 802.11ac "Wave 2" products emerged in 2015, expect many more to come to market in the first half of 2016. These products support "MU-MIMO" which stands for multi-user, multiple input, multiple output. MU-MIMO takes advantage of additional bandwidth that is used to provide smooth communication with multiple devices using a separate stream for each user, almost as though each device had access to its own router. This is somewhat similar to the difference between a single core and multi-core processor. This provides a more stable Wi-Fi connection for each device where multiple devices are accessing the same Wi-Fi router simultaneously. This technology would work well in homes with multiple devices, and obviously in office environments.
Wi-Fi: 802.11ad
A new Wi-Fi specification, 802.11ad, operates on the 60 GHz band to provide higher Wi-Fi speeds up to 7 Gbps when combined with 802.11ac and 802.11n technologies in the same Wi-Fi router. The use case for these is a bit different than previous Wi-Fi technologies. The 60 GHz band does not penetrate walls, so this technology works where the Wi-Fi router and the receiving device are in the same room, but it provides higher speed than the other Wi-Fi technologies. You can expect these 802.11ad Wi-Fi routers to begin to appear in the first half of 2016. This technology will certainly help download all of that new 4K Ultra HD content in a reasonable amount of time.
Multi-gigabit Switches
With the advent of the two faster Wi-Fi technologies mentioned above, you may be wondering how your back-end network can feed these new Wi-Fi router technologies. For example, most of today's Wi-Fi routers and access points for home and office use have a 1 Gbps port for a wired connection to the primary network. If the Wi-Fi router is capable of speeds higher than 1 Gbps, but the connection to the rest of the network is limited to 1 Gbps, how much throughput can you realistically expect?
I've been speaking about some new datacenter technologies for the last few months at other events, such as the Flash Memory Summit and Storage Decisions New York, that were not shown at CES, but are necessary to support these faster Wi-Fi speeds in environments that have both wired and wireless networks. The Ethernet standards folks began development of some new speeds back in 2014, and 2016 is the year that at least three new Ethernet speeds will come to market. Two of these, 2.5 Gbps and 5 Gbps, are of interest to the home and office Wi-Fi market.
There is a new class of Ethernet switch called "multi-gigabit switches" that support 1 Gbps, 2.5 Gbps and 5 Gbps, and the ports on these switches can operate at any of these speeds. The Ethernet standard that supports these new speeds is expected to be completed this year. Some pre-standard multi-gigabit switches were announced late last year, and officially standards-compliant switches are expected this year.
These multi-gigabit switches have the familiar RJ45 connectors and support standard Cat 5e and Cat6 cabling, which extends the life of this type of cabling by providing speeds higher than 1 Gbps. I address datacenter technologies such as 10 Gbps Ethernet and the new 25 Gbps Ethernet in other places as mentioned above.

I saw many virtual reality (VR) solutions, primarily used as immersive experiences for gaming, though VR could be used for other types of simulations, especially training simulations. These ranged from the Oculus Rift and competing brands of headsets that connect to a mid-range or high-end gaming computer to a special headset that accepts your smartphone and uses it to generate the VR experience. Every time I passed the Oculus Rift booth, there were long lines of people waiting to get inside.
I saw some booths where the people wearing the VR headsets could walk around — without bumping into each other — and participate in a VR game or exploration. One brand of VR headset could be worn in front of the eyes for a visual experience or moved to the top of the head and used over the ears for an audio experience. In another booth, there was a full body VR experience, where the gamers wore the VR "goggles" and were connected via a harness into a special "pod" where they could run and move in all directions as needed for the game.
Is the goal of the VR solutions to provide preparation and training for the real world or an escape into a virtual world? I can imagine a person spending a large amount of time in a VR environment having to allow time to readjust to the real world when finishing the game.
Augmented Reality
The augmented reality (AR) glasses and headsets provide a different type of experience than the VR experience. The AR use cases allow the person to see the real world, but provide additional information for the items in view. For example, with AR technology, a person could look at a baby in the hospital and not only see the baby but get vital statistics in real-time. Similarly, a factory worker could look at certain types of equipment and get real-time information about the temperature or operating condition of the unit, or be shown how to properly adjust the unit. At least one of the AR glasses or headset could also switch to a thermal view to help observe the temperature of equipment or surroundings. Personally, I'm more excited about the uses for augmented reality than for virtual reality.

There were several implementations of 360-degree cameras. These are either a single unit with multiple cameras or multiple camera units cleverly mounted together to provide a true 360-degree (left, right, up, down) view. These are provided with software that is used to stitch the various views together for display on a two-dimensional screen such as a computer or tablet. When displayed, the user simply scrolls the display in any direction to see more of the photo.
These can be used for drones, surveillance and similar types of commercial or industrial applications. These can also be used to take some stunning landscape photos either from the air or on the ground.

Drones and other unmanned systems took up a significant amount of floor space. I saw drones of many sizes, from small enough that I could hold two of them in one hand, to one flying drone large enough to hold a person inside of it. I saw drones with four rotors, six rotors, some with wings and one that looked like a floating sphere. I even saw one drone that was designed to work under water.
The Parrot Disco is a one winged model can achieve speeds of 50 miles per hour and can stay aloft for 45 minutes. The Autel Robotics Kestrel has a wingspan of approximately 6-8 feet with four rotors used for vertical take-off and landing. Once airborne, the rotors move to a horizontal orientation for fixed-wing level flight of 1.2 – 2 hours and a distance of 63 miles.
Many of the larger units had obvious law enforcement uses and were marked as such. Many others are designed to follow you while doing various outdoor activities and provide great video of you while skiing, mountain biking, etc. One model from Intel can avoid obstacles while following you and has retractable landing gear so that the 360-degree camera does not have an obstructed view. One other model has a wristband control feature, so that with a simple movement of the wrist, the drone would ascend or descend while still focused on the wearer. Some of these drones accept flight plans and operate in a form of "auto-pilot."
This is such a booming industry that the United States Federal Aviation Administration (FAA) had a booth there taking unmanned aircraft systems (UAS) registrations. Effective December 21, 2015, anyone who owns a small unmanned aircraft of a certain weight must register with the Federal Aviation Administration's Unmanned Aircraft System (UAS) registry before they fly outdoors. People who previously operated their UAS must register by February 19, 2016. People who do not register could face civil and criminal penalties.

Smart watches were another huge type of technology, and I only saw the displays on the main floor and did not have time to get over to the full health and fitness section in the Sands convention center. These watches not only tell time, but they can monitor some of your vital statistics (e.g. heart rate) and can coordinate with your smartphone to display all sorts of information. This will be a huge area of interest this year.
Security and Privacy
I spent some time in the security and privacy area. It is interesting that much of the technology on display at CES is designed to generate large amounts of data (e.g. video, health statistics, etc.), but the security and privacy items are designed to keep that data private. I saw a few special wallets, purses and similar items that can prevent smartphones and credit cards from being hacked via proximity devices. These special wallets and covers can work passively or actively. The passive models block electronic signals with special materials inside the cover. The active models jam nearby signals in order to protect the data inside. I also saw a number of small safes and lock boxes specifically designed to protect electronic data.
Education
I saw a few examples of the most current educational "games." When my children were young, my wife and I provided some computer games for our children which they eventually discovered were actually educational games. They enjoyed the games and so didn't mind so much that we "tricked" them into playing them. Today's educational games go way beyond simple history or mathematics games. I saw only a few where I roamed, but these include assembling a toy that has some robotics features and can be programmed using a simple programming language.
America's Greatest Makers
For last year's Intel Developer Forum, I wrote about a new reality television show called "America's Greatest Makers." This show describes various teams inventing technology for a chance at a $1 million prize. This show will air in spring 2016 and you can get a preview of some very interesting applications of technology at their website.
CES Innovations Awards

I strongly encourage you to spend some time examining the products that won the CES 2016 Innovations Awards. These products were honored for outstanding design and engineering in consumer technology products.
Summary
A great deal of the consumer technology on display at this year's CES appears to be designed to enhance the experience of living life. These include viewing a feature-length movie or family vacation movie, building something or wearing something that provides information about one's movement, health etc., or teaching your children (or yourself) new skills. There was so much to see that maybe I will spend more than one day there next year.
---
Other CES Commentaries
Also see the "Related Content" section at the top of the left panel of this page.
---
Demartek public projects and materials are announced on a variety of social media outlets. These include Facebook, LinkedIn, Twitter and YouTube. Click any of the icons below to visit our pages.