Demartek Comments on the 2015 International CES
15 January 2015
By Dennis Martin, Demartek President
I spent one day last week at the 2015 International CES® in Las Vegas. As is my custom, I spend part of the time there looking for technologies that may find their way into the datacenter, and part of the time to see a few new interesting technologies.
This year's event seemed to be bigger than last year's, with more exhibit space spread across multiple venues, more exhibitors and higher attendance. I heard that by the second day of the event, 160,000 people had attended, including me. There certainly seemed to be more media there than in the past. Several times I visted an exhibit booth to find a reporter and crew recording video for a report, some in a language I understood, and some not.
Some reports said that there were more people in attendance than the number of hotel rooms in Las Vegas. As I often do, I allocated one day to attend CES, and since Denver is not that far from Las Vegas by air, I was able to get an early morning flight to Las Vegas, and a late evening flight returning from Las Vegas on the same day. I enjoy traveling light when I can, and I suspect that I'm not the only person who didn't need a hotel room for CES.
I took many more photos this year than in previous years, some of which are sprinkled in this report. You can find the full photo album on the Demartek Facebook page.
UHD (4K) and Higher Technology
Like last year, 4K Ultra High Definition (UHD) televisions and displays were prominent. Unlike last year, it seems that 4K technology has moved into virtually everything from the living room to your favorite quadcopter. The 4K televisions ranged in size from about 42 inches to upwards of 100 inches. I saw and heard the term "quantum dot" technology more than once while looking at these televisions and displays. I'll need to do some research on this fascinating technology, but I can say that the displays were stunning, with very sharp resolution and very black blacks. The price points for these displays are a bit high at the moment, but this is clearly the next wave of technology.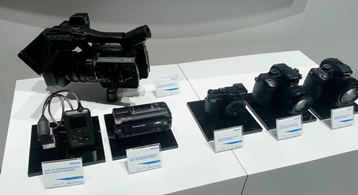 Many of the 4K televisions and displays I saw were built with the now standard 16:9 aspect ratio. I saw quite a few wider displays with 21:9 aspect ratio that were 5K resolution, known as ultrawide QHD. This is very similar technology to the standard 4K technology, but in a wider form factor. Many of these 5K displays were curved. In my comments last year, I mentioned that I don't have any curved walls in my house, so I wasn't sure about curved displays. However, I see a much more commercial use case for these wide 5K displays for network operations centers (NOCs), stock traders desks, graphic designers and possibly high-end gamer stations. These are designed to sit on a desk that needs to display large amounts of data, but in several sections, each with different types of data.
I saw several 8K displays in the 90 and 100-inch size range — many more than last year. The application here is for retail or similar applications where large, very high-resolution displays can promote products, advertise movies, and other similar situations where information is presented to groups of people for short periods of time.
I saw a complete line for 4K technology camera products from Panasonic and others. You can get everything from a very small portable 4K body camera all the way up to full-sized camcorders that record in 4K. Several of the quadcopters had 4K cameras mounted on them. These are all available today. I also saw a prototype smartphone with a 4K camera that is planned to be introduced in Europe mid-year and in the USA by the end of this year.
3D Printing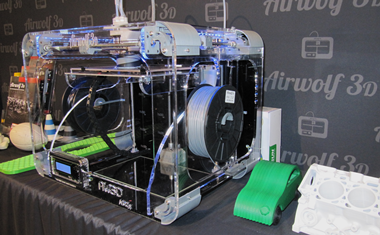 3D Printing is moving forward at a very fast pace. There was a very large 3D printing exhibit area, much larger than in the past, with many companies providing very interesting products. Many of the low-cost 3D printers use various types of plastic to print fairly complex objects. The printer in this photo includes parts that were 3D printed using this printer. Some have figured out how to print in color by using multiple colors of plastic material. At least one company showed a single object printed with multiple colors of plastic. Another company is able to print with "alloys" of plastic combined with other materials such as bronze, copper and even wood. One company is doing a joint venture with Hershey chocolate to print complex, 3D chocolate confections. This company also showed a 3D printer using sugar frosting for very elaborate desserts. The very expensive units can "print" with pure metals such as steel that can be used for working parts in machinery.
Some companies were showing 3D printed clothing, either full dresses or accessories made from 3D printed plastic. There are some limitations of the plastic material, but this could be an interesting market.
3D Scanning
I saw a number of 3D scanning technologies at this year's CES. Intel had a laptop computer with three small cameras mounted near the top of the screen. Using the three cameras, they can scan your face and then put your face into an application such as a game character. This type of camera system can also allow gestures to control actions on a game or other applications. Other companies were able to scan your face and, using a 3D printer, "print" a small action figure or statue with your face, or your child's face, on it. We can now do in a few minutes or couple of hours what used to take sculptors weeks or months to produce, at least with plastic. I began to wonder about the market opportunity for human narcissism.
Other 3D scanning applications take multiple photos of objects of almost any size and then send them to an e-commerce website so that customers on the Internet can rotate the photo in almost any direction to get a complete view of the product before purchasing it. When I asked one company how large of an object they could photograph this way, they asked how big of an object did I have in mind. They can setup a large boom and perform their technique with automobiles and similar-sized objects.
Transparent Display
I saw an interesting transparent display technology being shown in one of the large television manufacturer booths. They setup what looked like a piece of glass mounted in a frame in front of a stand with some objects placed on them. This prototype glass then began to display shapes and words in front of the objects in a sort of black-and-white format. Sometimes you could see the objects behind the glass, and sometimes portions of the display obscured the view of the objects, depending on what was displayed. Check our Facebook photo album for photos of this display.
Drones and Robots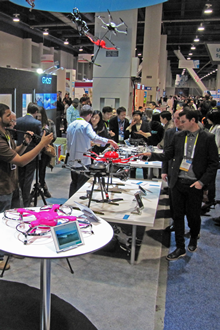 Quadcopter drones and other types of drones were everywhere. I saw numerous sizes and shapes of quadcopters from many companies. I spoke to a person from Nixie in the Intel booth, who showed me their lightweight, wrist-mounted quadcopter camera drone. They were showing a prototype, and there is still work to be done, but expect to see more of them. This camera drone knows where you are and can photograph you in activities that would be otherwise difficult to photograph.
There were many other quadcopter drones of various sizes, from hand-held to as large as a conference room table. I saw one that had many cameras attached to it that could take 360° photographs, including above and below the drone. The possibilities for this technology are endless.
I saw numerous other robots that move along the ground, robots for cleaning solar panels, and one that will clean your barbeque grill. There was one robot that was built to look like a person and could sing.

Health and Fitness
The health and fitness section was huge, showcasing many types of devices with sensors that can track numerous fitness-related metrics, including your sleep. I spoke with one fitness trainer who was wearing one of these sensors, and it could not only count the sit-ups she was doing and measure her heart-rate during the exercise, but also the angle of the sit-ups and could verbally tell her if she didn't go high enough. One company has a yoga mat filled with pressure sensors that can indicate proper balance on the mat. There were several products with sensors in objects such as basketballs that can track the angle of your shots to help train you to shoot the best angle. I have never seen so many treadmills — with active people on them — at a technology trade show before.
One jewelry company was there and wanted to make the rather dull plastic fitness wristbands into something more elegant. They had some very nice looking fitness activity-measurement devices for those dressy occasions.
SSDs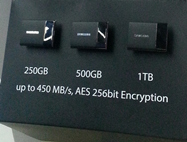 No visit to CES would be complete without discussing the latest SSDs. Samsung was showing several SSD products, many using TLC, 3D NAND flash. A product that was announced and will soon be available is the one-ounce, business-card sized external flash drives with USB 3.0 interface. If you weren't convinced already, there's really no good reason for not making backups of your data, and this type of device can help get it done fairly quickly.
Wireless Power
I spoke again with the Wireless Power Consortium and the Alliance for Wireless Power, who had booths around the corner from each other. I've been watching these technologies for some time and you can read a bit about this in last year's CES commentary. We're getting closer to seeing wireless methods for recharging cell phones and other small electronics. My smartphone apparently works with the Wireless Power Consortium wireless charging system, but needs a slightly different back cover, available from the manufacturer, to work with this system.
The Wireless Power Consortium appears to be a bit further along in adoption among various manufacturers, and is claiming 70 enabled smartphones and 670 commercial products that support their wireless power/recharging systems. Expect to see wireless charging systems to appear in new cars relatively soon. Imagine setting your phone in a little cradle in your car to keep it from falling while it charges the phone automatically, without connecting any cables.
Power
Power charging, power saving and batteries were another major theme at this year's CES. One company, Finsix, would like to replace those power bricks we all carry with our laptop computers with something much smaller. They use an entirely different technology to transform power from the wall to your laptop in a much lighter and smaller form factor. The technology looks amazing, now they just need get the prices down and volumes up to match the existing traditional power transformers.
Mini-tower Computers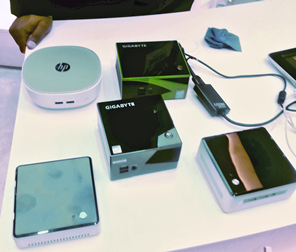 At the Intel booth, they were showing the latest "tower" desktop computers from several manufacturers. These are full-function desktop computers with Core i3, i5 or i7 processors not much bigger than the palm of your hand. These take up very little space and would make ideal media servers near your television or near your desktop monitor.
Girl Scouts of the USA
Imagine my surprise when I walked around the corner and a young girl in a girl scout uniform asked me if I knew about their new online cookie ordering application. The Girl Scouts had a booth there and beginning this year, you can order your girl scout cookies online, via the web or a phone app. Your favorite girl scout will still get credit for the order, but the cookies will be delivered directly to you, rather than having your neighbor's garage temporarily become a cookie warehouse.
Mind Control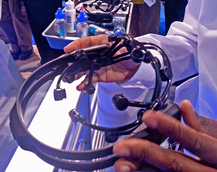 I stopped by the IEEE booth where they were demonstrating mind-control electronics. In this demonstration, the person wears a special headset with sensors at various points around the skull. This set of sensors was plugged into the controls for the car going down the racetrack and the racer was told to visualize the car moving down the track. They setup races for two players at a time. It was fascinating to watch the cars suddenly move down the track, often with the player's eyes closed.
CES Innovations Awards

In one day, there was no way to cover all the products or product categories. For example, I simply did not have time to view the automotive products, though there were many innovations happening in that industry with products on the show floors. I also, unfortunately, did not have time to visit all the virtual reality booths as there were very long lines at these booths. I was able to observe the end of a virtual reality volleyball game by four people seated at a desk. While it would be fun to play with virtual reality light sabres in some settings, I would rather play real volleyball than pretend volleyball while seated at a desk.
I strongly encourage you to spend some time examining the amazing products that won awards at this year's CES. The CES Innovations Awards are grouped into a couple dozen categories with some very well-designed products. Browsing these pages is the next best thing to being there.
Photos by Dennis Martin. Some of the photos on this page are cropped versions from the full Demartek Facebook page CES 2015 photo album.

Disclosure: I do not own any stock in any of the companies listed, nor was I paid to include any of them in this article.
---
Other CES Commentaries
---
Demartek public projects and materials are announced on a variety of social media outlets. These include Facebook, LinkedIn, Twitter and YouTube. Click any of the icons below to visit our pages.