Demartek Presents SSD Technology and Next-Gen Data Center Innovations at the Storage Decisions Conference in June 2012
14 May 2012
Dennis Martin, President of Demartek, will present two sessions at the Storage Decisions Conference in Chicago on Wednesday, June 20, 2012. These sessions are:
If you are not in the Chicago area, consider attending our
SSD Seminars 2012
in a city near you.
---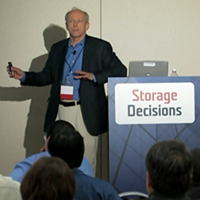 Innovations in Storage Networking: Next-Gen Storage Networks for Next-Gen Data Centers
With 10 Gigabit Ethernet (10GbE) about to proliferate in data centers, and storage technologies such as scale-out and grid architectures adding stress to storage networks, it's time to rethink your storage network infrastructures–whether they're Ethernet or FC based. In this session, attendees will learn about converged networks, FCoE, CNAs, network virtualization, 10/40/100 Gbps Ethernet, 16 Gbps FC and InfiniBand alternatives. Topics will also include:
Converged networks and their advantages and disadvantages
The future of Fibre Channel
I/O bandwidth capabilities and what is available with the new crop of servers
Performance data from the Demartek lab for 16Gbps Fibre Channel (16GFC), 10GbE converged networks, 10Gbps iSCSI and more
---
Where (and How and Why) to Implement Solid-State Storage
This session will help you find the best fit for solid-state storage–in servers, in hybrid arrays, in all-flash arrays, as caching devices (server or networked based) and so forth. Independent expert Dennis Martin will describe all of the current choices, discuss the pros and cons of each, and then help you determine which approach will give your company the biggest bang for its solid-state storage buck. Topics will also include:
Characteristics of NAND flash, including SLC, MLC, endurance, Trim and wear leveling
Various form factors for solid-state storage, including new solid-state-specific form factors
Data placement strategies including caching and tiering
Solid-state storage performance data from the Demartek labs
---
Ask The Experts Zone
Dennis Martin will be available by appointment in the ATE Zone to answer your most pressing questions. Not only will you gain access to his expert insight, you'll also walk away with an exclusive collection of insider tips & resources from the all the speakers. This 100% free offering includes materials from each expert such as best & worst practices, latest storage research, unpublished findings, and much more! Dennis is available for free consultation on solid state storage, Fibre Channel, iSCSI, FCoE, Microsoft server application storage best practices and more.
---
Click the link to get the complete agenda and registration information for Storage Decisions Chicago 2012. Stay current with the latest news for this conference by following the Twitter hashtag #SDCHI12.