Demartek Presents I/O Virtualization at SNW USA in October 2011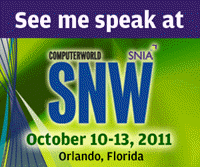 25 July 2011
Dennis Martin, President of Demartek, will present at the Storage Networking World Conference (SNW) in Orlando, Florida, October 10-13, 2011.
Announcement

Due to the large interest in SSD technology, Demartek will be giving away at least one SSD on October 31, 2011. We will select the winner by randomly drawing names from our free monthly email newsletter list at 10:00 a.m. MDT on October 31, 2011. No purchase is necessary to be eligible for this drawing. Additional details are available on our Demartek SSD Giveaway page.
---
I/O Virtualization - The Next Virtualization Frontier
Do you use the full bandwidth in all of your server adapters, network interface cards, RAID controllers all the time? Or do you only need peak bandwidth for these adapters some of the time? Would you like to make a rack full of servers use only the storage and network adapters that they actually need, rather than having to put expensive cards in every server? I/O virtualization is emerging as a great way to virtualize your underused adapters across your server infrastructure. In this session, we will define I/O virtualization and how it complements server virtualization. We will discuss extending the PCI Express bus natively and within other transports such as Ethernet and InfiniBand, and new standards such as SR-IOV and MR-IOV. We will also discuss how I/O Virtualization compares to technologies such as Fibre Channel NPIV, DCB and FCoE.
Learning objectives include:
Learn about I/O Virtualization and standards such as SR-IOV and MR-IOV.
How I/O Virtualization works with server virtualization.
Discuss good candidate environments for deploying I/O Virtualization.
---
Advancements in Fibre Channel
Dennis will be moderating this discussion on Fibre Channel with other industry participants. Panel members discuss the latest advancements in Fibre Channel - the leading technology in Storage Area Networks (SAN). Fibre Channel continues to advance with higher speeds, lower cost solutions and virtualization. Topics covered will be FCoE, 16 Gb, FC-SCM among other future directions in store for Fibre Channel. Companies represented on the panel will include Amphenol, Brocade, Emulex, NetApp and QLogic.