Demartek Evaluation: Broadcom NetXtreme 25Gb Ethernet Adapters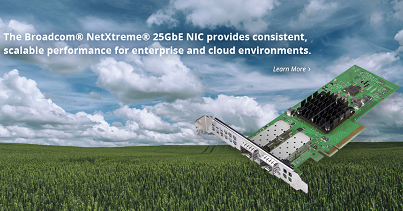 January 2018
As customers of all sizes begin to adopt 25Gb Ethernet (25GbE) technology, enterprises and cloud data centers need to consider the scalability and consistency of performance of the Ethernet adapters, also known as network interface cards (NICs).
In particular, cloud-scale data centers, where hundreds to thousands of NICs are deployed, need to consider the range of latencies produced by NICs. Tail latency matters more than minimum or average latency at large scale, because the tail latency experienced by several NICs at any given moment can cause unexpected and disruptive application delays, slowing down the overall network performance. Predictable and low-tail latency is critical to high-performance cloud-scale data centers.
Broadcom commissioned Demartek to analyze the performance of the Broadcom® NetXtreme® 25GbE NIC in terms of performance consistency, comparing these results to the equivalent Mellanox® ConnectX®-4 25GbE NIC.
---