Demartek 25 Gigabit Ethernet (25GbE) Deployment and Installation Tips
Practical Information for Deploying 25GbE Technology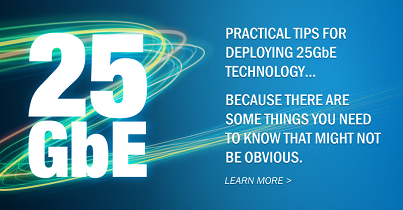 March 2018
By Dennis Martin, Demartek President
Upgrading your computer networking infrastructure to 25GbE technology will certainly provide additional room for bandwidth and connectivity growth, but there are some practical considerations that must be addressed in your deployment and installation planning. 25GbE cables, connectors, transceivers, network adapters and network switches in many cases are compatible with the older 10GbE technology but have different characteristics.
You may be designing a new data center or simply want to upgrade a few components in rack — either way, there are things about 25GbE technology that you need to know that may not be obvious.
In this Demartek 25 Gigabit Ethernet (25GbE) Deployment and Installation Tips report, we discuss the following topics.
Recent Ethernet History: 10GbE and 25GbE
Forward Error Correction (FEC) Mismatches
Connectors (SFP, QSFP, etc.)
Cable Differences and Lengths
Our Storage Interface Comparison page provides additional detail on 25GbE, 100GbE, SFP and QSFP connections, copper cables, fiber-optic cables and more.
---