Demartek Presents SSD technologies at the Storage Decisions Conference in September 2011
22 July 2011
Dennis Martin, President of Demartek, will present two sessions and is available for consultation in the "Ask The Experts Zone" at the Storage Decisions Conference in New York, September 19-20, 2011. These sessions are:
---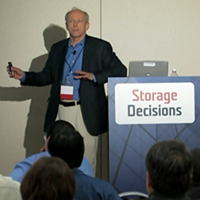 Efficient Storage: Automated Storage Tiering
First there was HSM, then came ILM, but this time around, automated tiering--without a catching acronym to hang on it--is getting much more serious consideration. Shrinking storage budgets and escalating capacity requirements have made it clear that storage must be managed better. One of the basics of good management is ensuring that data is kept on the most appropriate storage according to its usefulness and importance to the organization. Automated storage tiering represents a bold step in that direction, and most major storage vendors have jumped on the tiering bandwagon--but there are key differences in how they tier, and some software alternatives to consider as well.
---
Making the Case for Solid-State Storage
Everybody knows that solid-state storage runs fast and cool, and uses far less power than hard disk alternatives. And everybody knows that solid state is darned expensive, too. In this session, we'll see where SSD can have the most impact in a storage environment, including looking at the various implementation alternatives. We will discuss the device choices and data placement choices you need to make when considering SSD deployments. We'll also crunch the numbers with a financial breakdown of SSD implementation and help you determine if solid state is cost effective for your company, taking into account newer technologies like automated tiering that make solid state a more viable alternative in some cases.
---
Ask The Experts Zone
Sign up in advance for a complimentary, one-on-one consultative appointment:

Dennis Martin, Demartek President, will be available by appointment in the ATE Zone to answer your most pressing questions. Not only will you gain access to his expert insight, you'll also walk away with an exclusive collection of insider tips & resources from the all the speakers. This 100% free offering includes materials from each expert such as best & worst practices, latest storage research, unpublished findings, and much more!

Dennis is available for free consultation on solid state storage, Fibre Channel, iSCSI, FCoE, Microsoft server application storage best practices and more.

Sign-up for your time slot at http://storagedecisions.techtarget.com/newyork/experts.html