Demartek to Present at SNW USA in October 2012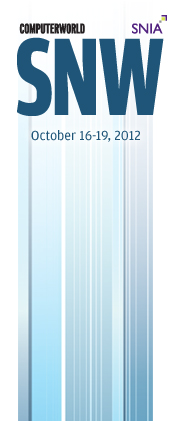 October 2012
Dennis Martin, President of Demartek, will present one session at Storage Networking World Conference (SNW) in Santa Clara, California in October 2012.
---
Analyst Perspective: I/O Virtualization - The Next Virtualization Frontier
Do you use the full bandwidth in all of your server adapters, network interface cards, RAID controllers all the time? Or do you only need peak bandwidth for these adapters some of the time? Would you like to make a rack full of servers use only the storage and network adapters that they actually need, rather than having to put expensive cards in every server? I/O virtualization is emerging as a great way to virtualize your underused adapters across your server infrastructure. In this session, we will define I/O virtualization and how it complements server virtualization. We will discuss extending the PCI Express bus and InfiniBand bus and new standards such as SR-IOV and MR-IOV. We will also discuss how I/O Virtualization compares to technologies such as Fibre Channel NPIV, DCB and FCoE.
This session will include a sneak peek at SR-IOV in Windows Server 2012. As is customary, Dennis will discuss results of his early lab testing with these technologies.
---
Analyst Perspective and Test Lab Report: Using File Server Protocols for Block-Based Storage Workloads
Many workloads, such as database, email, virtual machine migration and others are usually performed using traditional block-based storage protocols, such as Direct Attached Storage (DAS) or Storage Area Networks (SAN) including Fibre Channel or iSCSI. Technologies are being developed that enable all of these workloads to be performed in non-traditional ways, including using file servers with file-based protocols over Ethernet. These technologies provide a simple way to deploy these workloads while maintaining expected performance levels. In this session, Demartek will explain how SMB 3.0 (CIFS), available in Windows Server 2012 and Windows 8, enables applications to use file servers for workloads usually thought to require block storage protocols. Examples and test results from the Demartek lab will be included in this presentation.