Demartek Evaluation: HPE Cloudline CL3150 Gen10 High Performance Cloud Solutions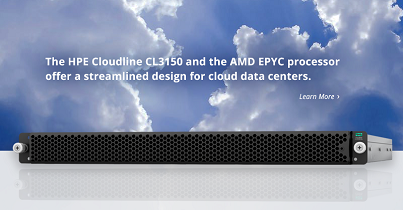 February 2018
The HPE Cloudline CL3150 Gen10 server is a 1U open standards-based ultra-dense storage server, ideal for performance demanding cloud applications. This server supports up to 24 NVMe solid state drives (SSDs) providing very high-performance and plenty of capacity, to meet ever-growing needs. This server is also designed for the AMD EPYC™ 7000 series processor, offering strong performance at a competitive price.
These servers are powered by AMD EPYC processors that provide up to 32 cores, 64 threads and 8 memory channels per socket. These processors also provide 128 PCIe 3.0 lanes, providing cloud environments with direct support for many high performance NVMe storage devices, eliminating performance bottlenecks found in other architectures.
To test this cloud deployment solution, we chose the Yahoo Cloud Serving Benchmark (YCSB) running across three nodes, connected via Mellanox 100GbE infrastructure. We deployed Excelero NVMesh to configure the cluster so that all the compute was performed on one node, and all the NVMe storage was accessed over the 100GbE network from the other nodes. By separating the compute nodes from the storage nodes while providing very high-speed networking, we can insure minimal disruption in the event of node failures.
---