Demartek Evaluation: HPE 25GbE RDMA Benefits in Virtualized Environments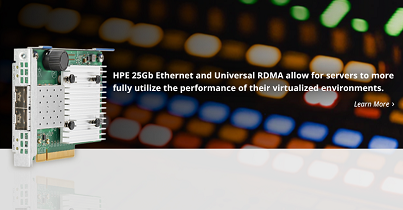 March 2018
Virtualization and 10GbE network connections have become the norm in today's datacenter; however, 10GbE no longer provides the necessary bandwidth to support today's growth in certain virtualization environments. Therefore, businesses need to upgrade from 10GbE to 25GbE with Remote Direct Memory Access (RDMA). The days of over-provisioning are gone. New virtual machines (VMs) are added regularly to servers resulting in fewer processor resources available to process network packets through the TCP/IP stack.
Furthermore, the VMs often drive aggregate demand for bandwidth to levels higher than 10GbE can provide. This can be observed when a database application such as Microsoft SQL Server or Oracle is running in a VM alongside other virtualized production workloads. Hyperconverged Infrastructure (HCI) and Storage Spaces Direct (S2D) clusters can also exhibit this condition.
HPE commissioned Demartek to explore the benefits of
Upgrading from 10GbE to 25GbE technology
Utilizing RDMA in virtualized environments
First, we explore where 10GbE is today and what 25GbE with RDMA has to offer. Then we show an example of how 25GbE with RDMA, using both iWARP and RoCE, improves performance resulting in dramatic time-savings during live VM migrations in a Microsoft Windows Hyper-V environment using SMB protocol.
---