Demartek Presents SSDs at February 2011 RMWTUG Meeting
16 February 2011
Dennis Martin, President of Demartek, spoke at the February 2011 Rocky Mountain Windows Technology User Group (RMWTUG) meeting. This meeting was held at the Microsoft Store in the Park Meadows mall on February 15, 2011.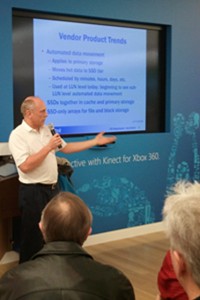 At the Microsoft store, members of the user group were able to browse a variety of new Microsoft products. Items at the store included Windows Phones, Kinect for Xbox 360, Microsoft Zune, and laptop PCs. Also on display were technologies like Microsoft Surface and Tablet PCs. Their cutting edge meeting space was a great venue for the RMWTUG meeting.
Click here for more information on the Tablet PCs featured at this meeting.
In his presentation, Dennis provided an overview of the architectures and technologies of solid state storage devices, including some of the physics of NAND flash and power consumption comparisons with spinning hard disk drives. Dennis discussed the difference between deploying SSD technology as a cache and as primary storage, highlighting the advantages of each deployment style. Dennis also shared how SSD technology can move the bottleneck from storage to other areas of I.T. infrastructure. In the last part of this presentation, Dennis included some of the recent results from his solid state storage performance testing of a web server using Microsoft Windows Server 2008 R2 and IIS 7.5 in the Demartek lab.
---
Microsoft, Windows, and Windows Server are either registered trademarks or trademarks of Microsoft Corporation in the United States and/or other countries.