Demartek Evaluation: Marvell FastLinQ 41000 Series 25GbE Performance, iSCSI Offload Competitive Evaluation and Storage Spaces Direct Use Cases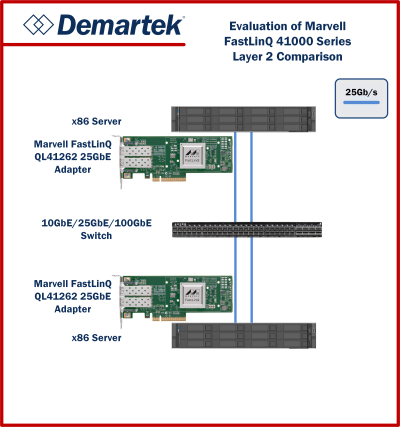 July 2019
Non-Volatile Memory Express (NVMe) and Storage Class Memory (SCM) are offered in current generation servers with Intel Xeon Scalable Processors. The resulting server storage performance gains are driving an increase in network bandwidth: Virtual Machines (VMs) and containers are more densely deployed on servers, the internet Small Computer System Interface (iSCSI) is being used for high-bandwidth storage solutions, and Hyper Converged Infrastructure (HCI) needs extensive bandwidth for inter-node communications. 25GbE networking is not only necessary, but the new standard.
25GbE has become a cost-effective upgrade to 10GbE as it delivers 2.5 times the data throughput of 10GbE through clock speed alone. Unlike 40GbE and others, extra lanes are not necessary, so 25GbE is backwards compatible with 10GbE.
In addition to speed, it is also important to consider additional Network Interface Card (NIC) features that enhance overall performance that may be applicable to a deployment. This includes features like iSCSI hardware offload or Remote Direct Memory Access (RDMA). Marvell FastLinQ 41000 Series 25GbE adapters support these and many other capabilities.
Marvell commissioned Demartek to evaluate the benefits of the Marvell FastLinQ 41000 Series when used with latest generation servers. We tested for Layer 2 performance, compared the iSCSI hardware initiator offload performance to that of software initiator on a leading competitor, evaluated Marvell FastLinQ 41000 Series use in a hyper-converged Storage Spaces Direct (S2D) cluster with SCM and NVMe storage, and weighed the benefits of upgrade by comparing 25GbE performance with 10GbE performance.
---
Related report:
Marvell FastLinQ 41000 Series 10GbE Performance
---