Demartek Evaluation: Dell EMC PowerEdge R7415 AMD EPYC VMware vSAN Mixed Workloads Performance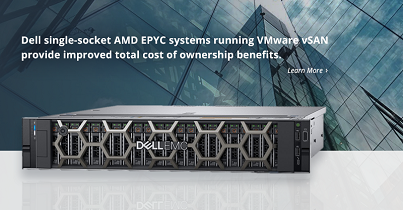 April 2018
Dell EMC provides VMware vSAN Ready Nodes that combine a wide range of Dell hardware and VMware vSAN software into a ready-to-order package. These include the new single-socket Dell EMC PowerEdge R7415 servers powered by the AMD EPYC 7000-series processors. These Dell EMC vSAN Ready Nodes are validated and configured to meet hyper-converged workload needs while taking advantage of lower single-socket licensing costs from VMware.
Dell commissioned Demartek to evaluate the performance of the new Dell EMC PowerEdge R7415 servers that use the AMD EPYC 7000-series of processors. Mixed enterprise workloads were run in this VMware vSAN cluster using one model of the AMD EPYC processor in each of three identical nodes. Then the tests were repeated using different models of AMD EPYC processors in the vSAN cluster nodes.
Several enterprise workloads were run simultaneously in virtual machines (VMs) across each cluster, including:
Microsoft SQL Server
Microsoft Exchange Jetstress
Iometer "All-in-one" workload
In addition, separate, stand-alone tests were conducted with another database workload known as DVD Store 2 running in a VM in the vSAN cluster.
---