Demartek Evaluation: Evaluation of Broadcom 57414 NetXtreme-E Dual-Port 10/25Gb Ethernet PCIe Adapters in a VMware Dell EMC 14G Server Environment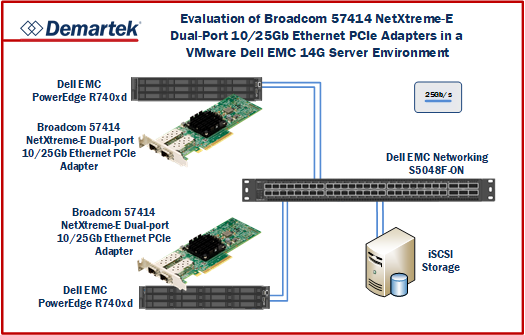 February 2019
Dell PowerEdge 14G Servers offer advanced hardware such as Non-Volatile Memory Express (NVMe) and Non-Volatile Dual In-Line Memory Modules (NVDIMM), which push Virtual Machine (VM) density and performance to new heights. 25GbE adapters have become necessary to support the network bandwidth generated, as there is a limit to how many VMs and how much workload can be supported on 10GbE.
When increasing VM density, it is important that performance not be compromised as more VMs are added. It is also important that VMs can be migrated in a timely manner to a backup server for routine maintenance. Lastly improved bandwidth is a must for more advanced workloads like Server Message Block (SMB) 3.
Dell commissioned Demartek to evaluate the benefits of upgrading from 10GbE to 25GbE adapters. We compared the Dell EMC PowerEdge R740xd servers running VMware with Broadcom 57414 NetXtreme-E Dual-Port 10/25Gb Ethernet Adapters operating at 10GbE against the same servers with the same adapters operating at a full 25GbE. iSCSI was used to provide the storage for the tests. Three scenarios were tested, which included a mixed workload environment, a VM migration, and a movie delivery via file copy on SMB 3.1.1.
---