Demartek Publishes Article on What's Next for Solid State
October 2015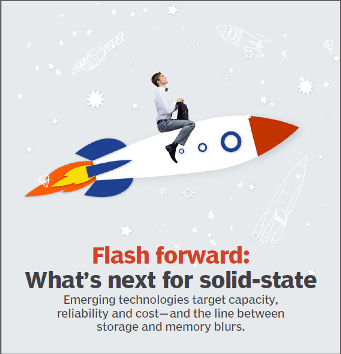 Four major developments have dominated the flash storage landscape in recent years: 3D architectures allow for denser NAND chips; memory channel flash uses a server's DIMM slots and bus for additional solid-state storage; nonvolatile memory express (NVMe) delivers a more efficient means of tapping into a server's PCI bus to extract greater performance; and NVDIMM tacks on a nonvolatile tier to system RAM.
All of these technologies are available now -- in this article, you'll find out the best use cases and the advantages/disadvantages of each. In addition, we will take a look at promising technologies that could replace NAND flash technology.
NAND flash usage has seen tremendous acceptance and growth, from consumer devices to the desktop and into the data center. NAND flash technology is used for primary (and the only) storage in many consumer devices, and it is also deployed in various forms with and without hard disk technology on the desktop and in the data center.
Until recently, most of this NAND flash has been two-dimensional "planar" NAND flash. Over the last few years, NAND flash technology advancements have been primarily described by changes in the lithography (or die size, measured in nanometers), density (gigabits per square millimeter), bits per cell (single, multi- and triple-level cell) and power consumption. In addition to the technology advancements, the overriding factor is, and will continue to be, the cost to produce it...
The complete article is available in the October 2015 edition of Storage Magazine. It is also available on the SearchSolidStateStorage web site.